RF Coaxial cable MIL-C-17 RF coaxial cable RG400 has Double Silver Plated Copper Shielded Teflon, Stranded Silver Plated Copper Inner conductor and it is 50ohm that can replace RG-142 or RG-58.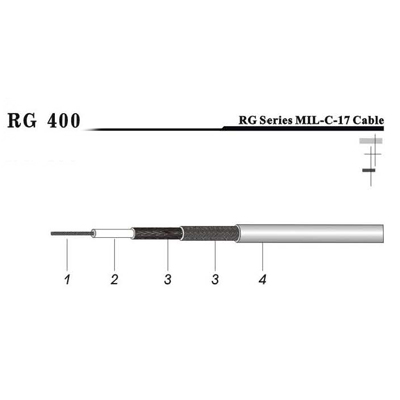 Key Features:
l Meet all MIL-C-17 requirements
l Good shielding effectiveness
l Low passive intermod (PIM)
l Readily available in distribution
The RG400 cable is extensively and reliably used in the following types of projects and applications:
l Radio frequency
l Telecommunications Applications
l Radio Systems & Microwave systems
l Test Cables
l Signal Transfer Applications
l Interconnects
l Military aerospace
l Military ground-based communication systems
RG400 Coax Cable is approved for direct burial. It is being used for the projects in an in-flight entertainment system or a telecommunications application. it is also a very versatile coax cable to use commercially and militarily.
We have enough RG400 coax cable in stock to meet your large length requirements.
Superbat manufactures the Coax Custom Cable Assemblies and RG400 jumpers according to your demands for your projects. We make kinds of RG400 Coax Cable assemblies, you can create your desired RG400 Cable Assemblies using our Custom Cable Assemblies.